Total Shaving Solution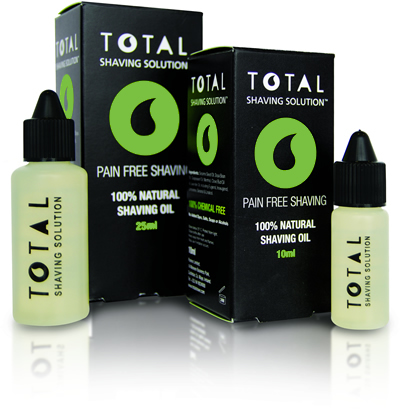 We didn't invent shaving, we simply perfected it……….
Total Shaving Solution™ is a 100% natural shaving oil. It gives you the closest shave you'll ever experience, and it's kind to your skin, making bumps, redness and cuts a thing of the past.
Think of the millions of people who view shaving as a dreaded task, and who are left afterwards with sore, red, dry, cut and bumpy skin – Total Shaving Solution™ will totally change their life.
Given that the average man spends a total of around 150 days of his life shaving, we think that he deserves a much more pleasant experience.
And it's not just that Total Shaving Solution™ gives a super-close, pain-free shave…..because you need only 3 drops per shave, you don't need bulky containers as with gel and foam – just a tiny 10ml or 25ml bottle. This makes it ultra convenient, especially for those who travel often by plane because it is of course "security friendly" and with less packaging, it's kinder to the environment too.
Total Shaving Solution is available from your local pharmacy without prescription.
Visit the Total Shave website http://www.totalshave.com/ for more details.
For further information about any of these products, please contact Pamex Limited.