"Put your Best Feet Forward this Summer!"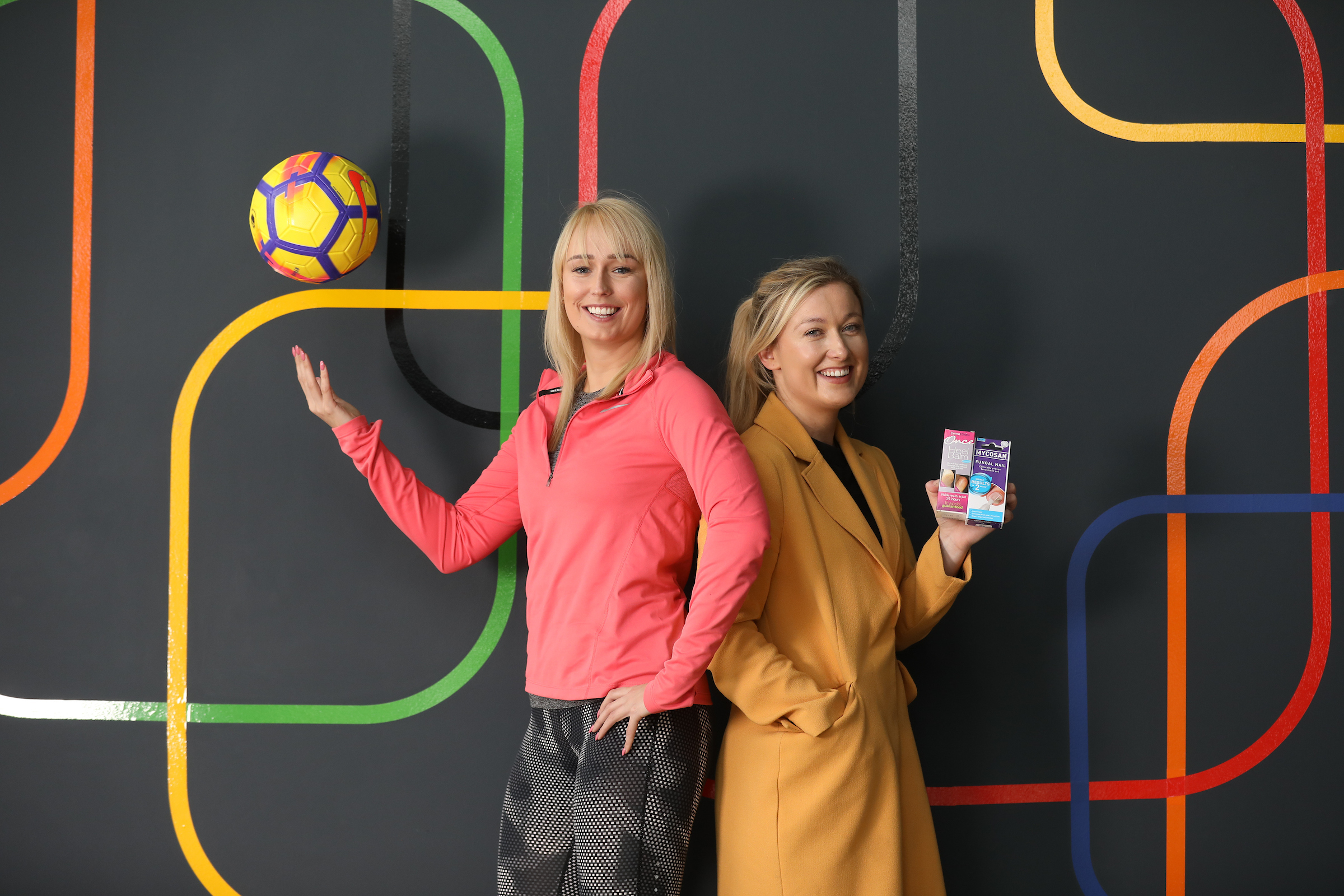 Pamex launches Foot Health Awareness Campaign.
Did you know that 50% of the world population is affected by athlete's foot or fungal nail at least once a year and 27% of world population suffers from nail fungus.
1 in 10 people with Diabetes has foot problems.
May 2018: Stephanie Roche put her Best Foot Forward this morning to raise awareness of foot health this summer. The campaign was launched today by Pamex, the Mayo-based distributor of foot health products, Mycosan and Dermatonics Once.
Commenting on her most prized possessions, Stephanie_Roche said: "As a sportsperson, I can't afford any serious issues with my feet that might prevent me from competing at the highest level. I incorporate foot care into my daily routine and make sure when I'm not training that I wear the right footwear and rest my feet when I can. I am a strong believer in prevention being better than cure, so I make sure to get regular physiotherapy, and if I have any issues at all, no matter how small, I seek treatment immediately. I always make sure to have a foot treatment such as Mycosan and Dermatonics Once to hand if required!"
Podiatrist, Aoife Reilly said: "Thousands of Irish people suffer from foot conditions, such as callouses, cracked heels and fungal infections. Often, these conditions can remain hidden throughout the year and only really become obvious or a problem for people as we come into the summer months. Some conditions are merely unsightly or uncomfortable while others can progress to more serious foot health complications if left untreated."
"Fungal skin and nail infections are one of the most common types of foot conditions presented in the summer months as these tend to thrive in warm moist conditions. Fungal infections can be exacerbated by poorly breathable footwear such as the beloved black tights worn in the winter and synthetic shoes and socks.
"We would advise people who think they may have a fungal infection to visit their Pharmacist, Podiatrist or GP to effectively diagnose and treat the condition. In order to minimise the risk of a condition developing, we would advise everyone to incorporate footcare into their daily routine by wearing appropriate footwear, alleviating stress on tired or sore feet and treating foot conditions the sooner, the better. People with pre-diagnosed conditions such as diabetes, rheumatoid arthritis or poor circulation should be visiting their podiatrist regularly for foot checkups."
'Put Your Best Foot Forward' is offering the following advice for your Feet this summer:
Footwear – You may not be able to justify splashing out on good quality summer footwear for only a few months of the year, given our climate in Ireland. This can lead to people purchasing poor quality footwear that might not suit their feet. However, we would say that the same rules apply to summer footwear as they do the rest of the year. Wear breathable footwear that fits and supports your feet. This will ensure that you avoid strain and will reduce the risk of developing certain foot conditions.
The Flip Flop – While you can't get more breathable than flip flops, be aware that this footwear can cause friction at the heel due to the lack of heel support. Combined with dry skin, cracks in the heel's skin can often develop which can pose a risk factor for certain individuals. We advise avoiding flip-flops and looking for key characteristics when shopping for all types of footwear. A firm heel counter, support along the arch and a wide, deep toe box is required. Although you need a certain amount of flexibility in your footwear for movement, your shoes should not be easily bent as a firm shoe provides stabilising factors.
Exercise – Running is a particularly popular exercise activity during the summer months, and runners' feet can often suffer from the increased strain. If running frequently, it's important that you wear the right footwear for your foot type. You should also monitor your feet regularly for signs of running-induced trauma on the lower limb and foot. Such trauma may include Plantar Fasciitis, Achilles Tendonitis, metatarsalgia all of which can be quite painful foot conditions.
We would advise, if you run often and are experiencing certain issues to contact your podiatrist for a gait analysis and visit your physiotherapist regularly. if you are experiencing any pain or discomfort, contact your physio or podiatrist straight away.
Nail polish – Nail polish and gel use causes oxygen deprivation in nails, leading to an increased risk of fungal infections. We would advise that you use all nail polishes and gels sparingly and don't forget to remove them.
Sun Exposure – People can often forget about the feet when applying sun cream. Make sure to cover the feet as you would the rest of the body with a high factor sun-cream when exposed to the sun.
Aoife also has the following top three tips for anyone experiencing foot pain or cramps to try at home:
Sit in a straight back chair with both feet flat on the floor.
Roll a firm ball such as a tennis ball on the bottom of your foot. This acts as a foam roller and can assist in reducing discomfort. (A frozen water bottle can be used instead as it has an additional anti-inflammatory effect).
Place your foot on top of the tennis ball radiating your foot around at the heel arch and forefoot, increasing and decreasing pressure as needed. Two minutes on each foot.
Both Mycosan and Dermatonics Once are available from pharmacies without prescription.
For further information visit, www.pamex.com