Alflorex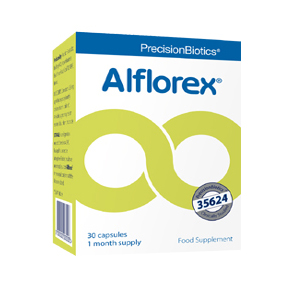 Alflorex® for good digestive health, is the only PrecisionBiotic™ supplement in Ireland to contain the unique and patented culture Bifidobacterium infantis 35624. PrecisionBiotic™ cultures are elite bacterial strains which have been selected to have targeted action where required. The PrecisionBiotic™ B. infantis 35624 is backed by over 15 years of research and over 50 peer reviewed publications. B. infantis 35624 was researched and co-developed by Scientists, Clinicians and Gastroenterologists in Alimentary Health Ltd. and University College Cork (one of the world's leading institutions in gut health). Alflorex is convenient and easy to use:
• Available over-the-counter, no prescription needed
• Only 1 capsule per day, taken with or without food
• For best results take Alflorex daily for at least 4 weeks
• No refrigeration required
• No contraindications
Discovered in Ireland. Developed for the world.
Alflorex is available from your local pharmacy without prescription and online at shop.pamex.com.
Visit Pamex Shop or the Alflorex website https://www.precisionbiotics.com/ie/ for more details.
For further information about any of these products, please contact Pamex Limited.