Zenflore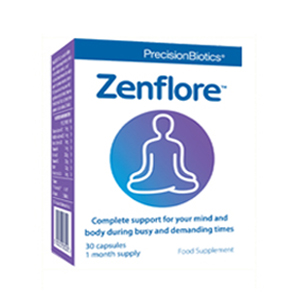 Zenflore, with the unique 1714-SerenitasTM culture and specially selected B vitamins, supports your mind and body during busy and demanding times and reduces fatigue*.
The special 1714-Serenitas culture in Zenflore was discovered and developed by PrecisionBiotics®, in partnership with scientists and clinicians from one of the world's leading centres of research on the microbiome and the gut-brain axis, the APC Microbiome Institute in UCC, Ireland.
By combining this unique Bifidobacterium longum 1714TM culture with specially selected vitamins, Zenflore supports your mind and reduces fatigue*.
Zenflore is available from your local pharmacy without prescription and online at shop.pamex.com.
Visit Pamex Shop or the Alflorex website https://www.precisionbiotics.com/ie/ for more details.
For further information about any of these products, please contact Pamex Limited.