Marimer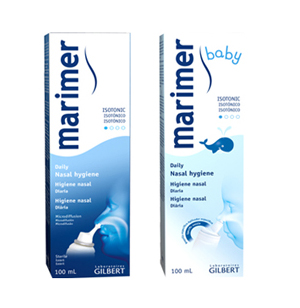 MARIMER NASAL HYGIENE is a seawater solution naturally high in mineral salts and marine dietary elements. The formula helps to decrease symptoms of allergy, and facilitates the gently evacuation of nasal secretions that can sometimes make life miserable.
WHY USE MARIMER NASAL HYGIENE?
– For nasal hygiene and rinsing the nasal fossae,
– For a dry or blocked nose, especially with signs and symptoms of allergy such as allergic rhinitis**.
100% sterile isotonic diluted seawater (equal to 9 g/l of salts).
Marimer is available from your local pharmacy without prescription and online at shop.pamex.com.
Visit Pamex Shop for more details.
For further information about any of these products, please contact Pamex Limited.